A house called 'Keepsake'
Two years ago this summer, I was really struggling with my latest novel The Butterfly Summer. I had this idea of a girl who, unbeknownst to her, has inherited a crumbling, strange house called Keepsake, lost and forgotten by everyone, which played a part in the Civil War and was host to an enduring love story. I thought the castle should be on the Dorset coast, because that was where Charles II had hidden during his escape to France in the Civil War.
Chris, my partner, and I booked a last-minute holiday at a cottage in Frenchman's Creek in Cornwall and we decided to stay in Dorset on the way there and the way back. We visited the places Charles II would have been to, we walked around, but something was still missing for me, and I could feel myself getting more and more panicked, though I didn't say anything.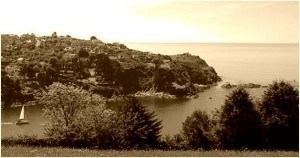 Then we went to Frenchman's Creek and had a totally wonderful holiday. I have always loved Cornwall, my grandparents lived there for a while and I have had some of the best times of my life there. But I had set a book there before (Love Always) and besides, it felt so clichéd to set another book in Cornwall, it's been done to death, and two of my favourite authors are Daphne du Maurier and Rosamunde Pilcher – tread carefully if you're going to stray onto their patch. But over the years as a writer I've realised that sometimes when something feels clichéd it's because it feels right and you're afraid of it.
The cottage was set at the beginning of the creek, almost entirely surrounded by trees. It was tiny, two bedrooms, slightly damp, and you could hear the water from the creek that met the Helford River rushing outside. Nightjars and owls sang in the trees all night long and during the day my daughter, who was then two, and I would walk carefully down the slimy steps with a shrimping net to catch things in the shallow water. (We never caught anything, but as ever with toddlers the simplest things captivate them and in her case that holiday it was plodding around in mud). We walked to Helford, we caught the boat to Helford Passage, we ate crab sandwiches on the shingly beaches and just gazed at the turquoise blue sea, at the hidden, magical feel of that part of the river.
The cottage was owned by the Landmark Trust which restores and looks after notable buildings big and small and in every Landmark property there is always a brilliant selection of books appropriate for the area. In this case there was no mobile reception, much less a TV, which means you actually spend the week reading and drinking wine and chatting. It was brilliant. At Frenchman's Creek the bookshelf was stuffed full of du Maurier material ̶ the brilliant Daphne biography by Margaret Forster, Daphne's letters to a friend called Oriel Malet, and of course Rebecca, The House on the Strand and naturally Frenchman's Creek itself. I had always been slightly obsessed with du Maurier, but if I'm completely honest Frenchman's Creek wasn't one of my favourite of hers so having exhausted the rest of the bookshelf one evening I opened it reluctantly and began reading.
There, in the first few pages, was a brilliant description of a long-forgotten pile of ruins on Frenchman's Creek that one day an unsuspecting sailor on the creek might come upon, the remains of a once-glorious house. I knew then that this was the missing piece of the puzzle, that Keepsake had to be set here, that it was this house too, that I should stop worrying about clichés and being repetitive and just trust my own voice. So I did, and Keepsake completely came alive for me then. I could see exactly where it would be, what it would feel like, how the heroine would react when she saw it, what it had been like in its heyday… one of the most helpful books I reread when writing The Butterfly Summer was Alison Uttley's A Traveller in Time about a young girl who goes to stay with her relatives in the family's ancient house, Thackers, and finds herself slipping back in time to the era of Mary, Queen of Scots and the Babington Plot. I love the idea that time in some houses is elastic, that just around the corner in some rooms of some old houses are other worlds.
I can see Keepsake exactly. I built a whole family tree for the Parr family, dating back to the 16th century when the house was built by Lionel Parr. I gave every member who lived there a biography and their own dates and had pictures of them. I invented a rhyme about the Parrs that's at the beginning of the book. I knew every room and what would have been in it, where the horses were stabled, what meat they'd have cooked, and what rooms Charles II would have slept in when he came there to hide in deadly secret before escaping to France, a magical period of two weeks where he meets and falls in love with the first Nina Parr, who eventually gives birth to his child and is driven mad with love after he leaves. (It's a bit of a stretch that he'd have dashed down to Cornwall but that's why authors are allowed artistic licence. I believed it, you should too…) We went to the Lost Gardens of Heligan and I had a list of all the plants and butterflies that'd have been in that tropical, exotic, wild paradise of a garden. I went to old houses in Dorset with my friend Jojo that had weird blocked-up rooms and headless statues in alcoves outside. I walked Frenchman's Creek several more times on my own and worked out precisely where the jetty and the path up to the house would be. I visited Godolphin House, twenty miles from there, which was abandoned for years and still seems to be trapped in the past even though the National Trust now sells postcards of the house with its daffodil display in the barn, converted to a shop. In short, I finally let my imagination run free and listened to it, which is what I should have done in the first place. I'm really, really proud of Keepsake and The Butterfly Summer. I hope it's as real for you as it was for me. I like to think of them all still there in that house, and the butterflies in the garden.