Introducing my new novel THE BUTTERFLY SUMMER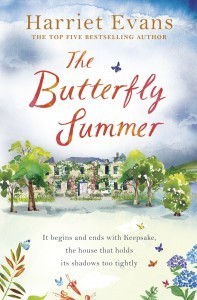 I have rarely been as excited about a book as I am with The Butterfly Summer. It has been so thrilling (and so hard!) to write. I don't think I've ever written a novel quite like it, and now it's finished I have no idea how I did it. I'm always relieved when I hear other authors say the same thing, because writing books gets harder, not easier, the more you write and the more you want to satisfy and intrigue your audience. This one was thrilling and daunting to write because there are many layers to the story. In fact, much has hit the cutting room floor, thanks in large part to the wisdom of my brilliant editor Mari, who understood what I was trying to do (!) and was thankfully able to tease that out of me. But a lot of surplus information about, for example, the habits of fritillary butterflies, or the history of Charles II during the Civil War, has gone. Which was definitely for the best…
It's always interesting to look at the book you set out wanting to write as, quite often, the finished product ends up being quite different. With The Butterfly Summer the kernel of the original idea and feeling I had, and the book it eventually became, are one and the same, and I'm so thrilled about that. It is, really, a novel for grown-ups about childhood, what we know about our families and what we don't know. It's also about mysterious houses on forgotten creeks and how the past is always with us in the present. I tried to pack it full of layers of secrets and revelations, lies and heartbreak, stretching back over centuries.
With most books you can at least outline a little of what's going to happen but with The Butterfly Summer I think I just need to step back and let the story unfold, so I'll just say this about it: it's the story of Nina Parr, a girl who has grown up in London with her mother after her father's early death catching butterflies in the Amazon. She knows nothing about him, or his family, and has got to the age of twenty-five accepting this, until one day in a dusty old library off Piccadilly she bumps into an old lady who seems to recognise her…
I wanted to write something that was like the novels I returned to time and time again when I was younger. I've always been drawn to books like I Capture the Castle, The Secret Garden, A Traveller in Time, or authors like Rumer Godden and Noel Streatfeild: stories with strong heroines, English houses, secret gardens and memories. Those are the books that inspired me when I was writing The Butterfly Summer. I really, really hope you enjoy it.
If you find yourself intrigued by the story of Nina Parr, sign up here for exclusive news and content from The Butterfly Summer…