Rewrites, rewrites, rewrites
Hello everyone,
Sorry that it's been a while since my last post. I have been busy.
a) Moving
b) finishing new book.
c) doing lots of things for A Place for Us.
If those aren't good enough excuses, I don't know what to tell you. The moving was crazy as it was 2 weeks before Christmas, but it was fab to be in before and have a Christmas tree up amidst the boxes. And then A Place for Us was published, which is fantastic, because I'm so thrilled and happy with how well it's done. It went to No.5 in the Sunday Times bestsellers list! Amazing! And people have been super kind and I am over the moon with the reaction. It has been a great start to the year. THANK YOU if you've bought it and I really hope you enjoy / enjoyed it.
Now I am working on my next book, The Butterfly Summer, which is published next year, in Spring. It's about a shy, Goth, geeky misfit who's grown up in London believing her father is dead and halfway through the novel discovered she's inherited a crumbling estate on a forgotten creek in Cornwall. It is Daphne du Maurier crossed with Ballet Shoes – does that sound crazy or amazing? I hope the latter. I am OBSESSED with it like no other book so far.
So last week I had a meeting with my wonderful editor Mari. Mari is amazing and talking to her about the books is always so helpful. I finished The Butterfly Summer three weeks ago, and you might think that's it, that beyond a bit of editing it's pretty much done. However I never see typing 'The End' as a finished job but more the beginning. I was an editor for ten years, and I know how important editing is: it's much more than just writing a book that's finished in terms of a beginning, middle and end. Sometimes, editing the book isn't that much: taking out one character who doesn't work, or rewriting a scene where the heroine and hero meet so that it's more romantic, or changing the pacing… sometimes it's a lot more than that. This time round I have a lot of work to do on the book, which I knew I would, and strangely I'm not downcast about it. Again, having been an editor, I know how vital it is to listen to other people whose job it is to help you, and not just to stick blindly to your version. I am working on two things now to get the novel right:
1. Pacing / Cutting / Relevant info. You may have heard of the expression Kill Your Darlings – well there's one I like more when it comes to editing which is: 'If you have a passage you think particularly fine STRIKE IT OUT!' brutal but true, often the bits of which you're most proud (a very long description of a sunset including the word cerulean which you looked up in the dictionary, or a witty exchange between two people with a joke you think is amazing) aren't doing anything to move the plot along, and in fact distract the reader and slow the tension of the moment. Getting an author to do this in my experience is often hard as they are very proud of their writerly prowess! I have been a big girl I hope and totally agreed that a whole section involving a character in flashback which involves a lot of info about butterflies and Victorian lepidoptery (yup, sounds fascinating doesn't it?!) must go. It may well crop up as an extra feature online or something if it works, or it may just go into the virtual bin. I have learned through bitter experience that if someone suggests something needs to go it probably shouldn't be there.
2. Finding the Bliss: this is such a woo woo way of putting it, but most of the work I will have to do on this book I think of as finding the blissful sweet spot of what makes a novel really sing. It's obvious when an author is in control of their material and when they're not. If they really know the characters, the landscape both physical and mental, the storyline past and present, if they are absolutely inhabiting the story it is obvious. I am super super obsessed with this book and will do anything to get it right. It is complicated, with various storylines and big reveals about who lived in this house and how Nina, the heroine, is connected to it all. It is all there in my head, and what Mari is brilliant at is drawing it out like Dumbledore draws out Harry Potter's thoughts with his wand and places them in the Pensieve where you can see them.
I know I am lucky to be edited. I need it. I am annoyed when I read books where I think they'd have been improved by someone being allowed to exercise their red pen. It's your name on the front of the book for the rest of time and what a shame if you don't listen to all the advice you can get.
Here's a photo of my study at the moment with everything to do with the book. There's a map of the Helford river, where the other part of the book is set, piles of old books on butterflies, a post-it plan, tonnes of photos of crumbling houses, places that have inspired me, and dresses from the 1930s (when some of the action takes place). It can be a bit too much – you can do too much research and not concentrate enough on what's on the page, instead!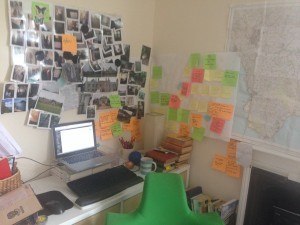 As you can see I am writing this instead of writing the book, bad me, and I'd better get back to it! Please do get in touch to say hi, either here, or on Twitter @HarrietEvans or on my Facebook Page. https://www.facebook.com/harrietevansbooks Plus I am doing several events over the summer, in Cornwall, Chipping Norton and various other places – more details soon when I get round to it! Be great to see people and say hi back.
Have a lovely day,
Harrie x x